Quality is more than a buzz word at Nutrascriptives.
It is the very foundation upon which our clinical grade supplements are built.
At Nutrascriptives, we believe quality cannot be tested into a product, but instead must be strictly implemented into the entire manufacturing process. This begins with a commitment from our internal team to utilize only pure raw ingredients and research-based product formulations. We ensure through stringent certification, in-process verification of product specifications and comprehensive 3rd-party testing that all ingredient suppliers and manufacturing partners exceed the high standards and expectations we hold for any of our finished products. These rigorous practices distinguish Nutrascriptives as a premium clinical grade product line that you can confidently incorporate into your life.
Take advantage of BIG savings on clinical grade supplements.
Conference attendees quality for a 40% off discount and free shipping.
To order, visit our website at https://nutrascriptives.com, reach us by email at [email protected], or call 800-461-4170.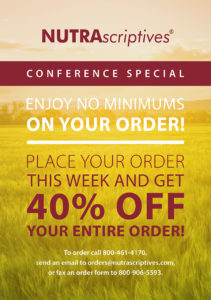 All ingredients must meet or exceed our strict safety, quality and compliance standards. Ingredient suppliers are qualified through a comprehensive review of manufacturing processes, testing protocols and documentation. Ingredients in their most bioavailable forms are used to maximize absorption. Third party laboratories test potency, identity, microbial contamination, and heavy metal content for every ingredient.
Research Based Formulations
Nutrascriptives' formulas are developed with clinically effective doses that are backed by scientific research. Our formulas are developed with a focus on minimizing the use of excipients, fillers and binders. To provide labeling clarity, the use of proprietary blends is minimized to provide full transparency to product formulation. Additionally, mineral dosages are identified by true elemental weight as opposed to salt weight. Finally, herbal extracts are standardized to primary active marker compounds to ensure products are delivering effective doses.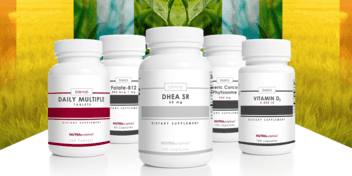 Optimal Storage and Handling
All of our processes, operations and finished products are housed in temperature and humidity controlled facilities to maximize stability. Additionally, comprehensive allergen control procedures are in place to prevent cross-contamination and guarantee product purity.
Premium Clinical Grade Supplements with "Quality" you can Trust
With Nutrascriptives you can be confident that what is INSIDE and OUTSIDE of our products is even more than our premium ingredients and processes. It is a company built on a culture of trust designed to enhance the lives of those we serve.